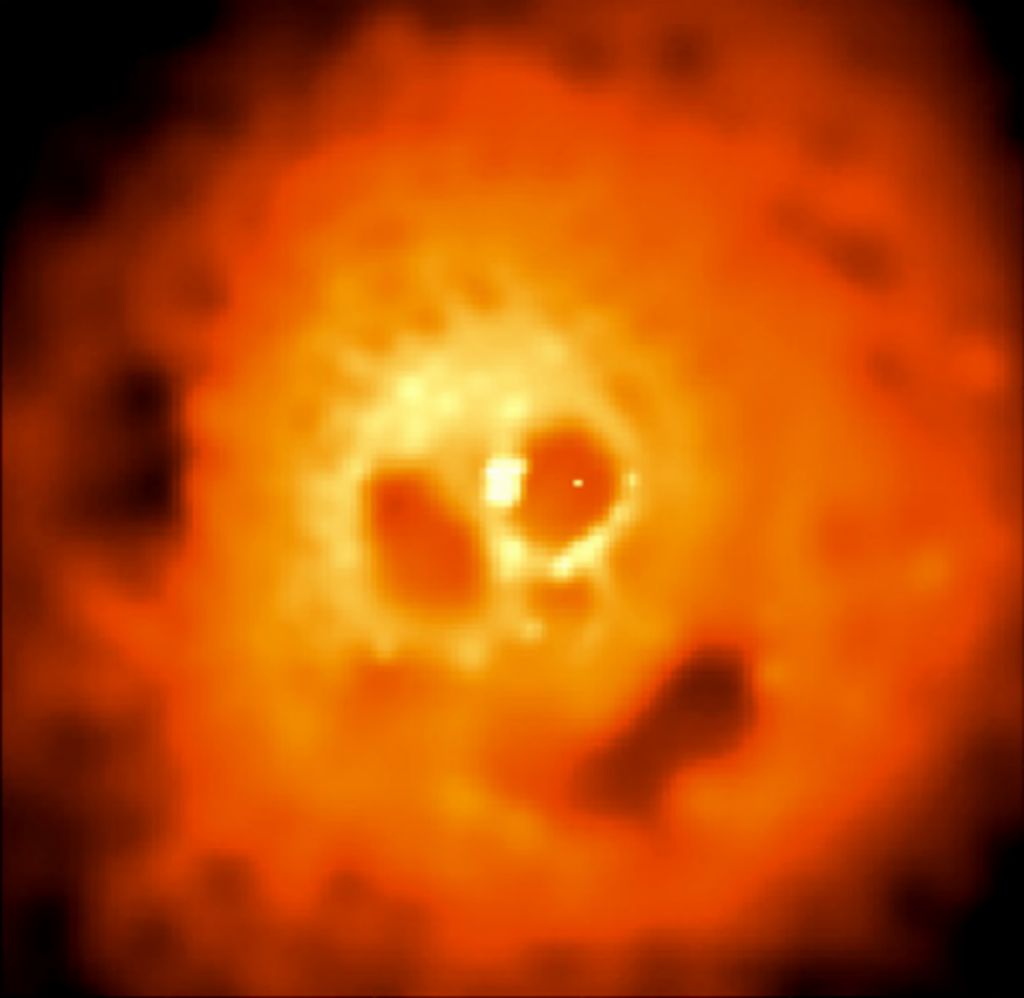 The Perseus Cluster's X-Ray Skull
Credit: A. Fabian (IoA Cambridge) et al., NASA (APOD)
Have you heard the news? Something strange is happening in the sky next Halloween. Astronomers have called it The Great Pumpkin in the sky. But what do you think this pumpkin is? A monster from the outer space? An orange planet coming to the Earth? A moon eclipse? Please we are interested in your answers; write them as comments.
But what do we know about Halloween? Since the fifth century B.C. Halloween has been celebrated as a cross-quarter day, a day halfway between an equinox and a solstice. Nowadays, Halloween modern celebration retains historic roots in dressing up to scare away the spirit of the dead. This is the reason why lot of people wear fancy dresses that day. By the way, will you be wearing a Halloween costume next Saturday? We
would like to know. Please, write a comment.
We are learning about Astronomy in our clases now. So, why don't you dress your favourite planet, moon, comet, galaxy or nebula up as a Halloween monster? I will put in this blog the best drawings.
Have a Happy Halloween.
(Spanish version)
And now, your drawings
The Earth dresses up as a bat, Venus as a pumpkin and a teddy bear and Mercury as a witch.
Daniela Valenzuela Teodosio, 1º ESO B.
Alejandro Ortiz Minaeva, 1º ESO A
It is a solar eclipse. The Moon is a werewolf and she wants to eat the Earth.
Paula Duro Muñoz, 1º ESO A.
The magical witch
My drawing is the Moon disguised as a magic ball like a mirror with a witch.
Elena Quesada Pimentel, 1º ESO A
The evil Pumpkin
My painting is about Venus dressed as an evil pumpkin. I dressed it like this because Venus colours are black, orange and red, similar to a pumpkin, which is very typical in Halloween night. Its face is plenty of blood and scratches. Be carefun! It is very dangerous!
Lula Candela Scanavino Prieto, 1º ESO A.
Saturn is a terrible zombie. Cristina Ortega Rodríguez, 1º ESO A.
In the picture appears three malefic dolls. One doll makes cotton candy in the black hole of the Milky Way. Noemí Castillo Tejada, 1º ESO A.
My drawing is a black hole disguises as a skull because the middle is black as a skull. Belén Díaz Gutiérrez, 1º ESO A.
The Moon as Jack Skellington in Nightmare before Christmas (Pablo Cardaldas Fornieles, 1º ESO A).